SERVING YOU
Well beyond the vehicles we build, our military support runs deep. Navistar's ranks include many talented service members and veterans from all five branches of service, plus military spouses. Veterans bring inspiring expertise to our organization.
VETERANS EMPLOYEE RESOURCE GROUP
MVAN promotes camaraderie and mentorship, creating a networking forum for veterans while enhancing Navistar as an employer of choice for veterans and their families.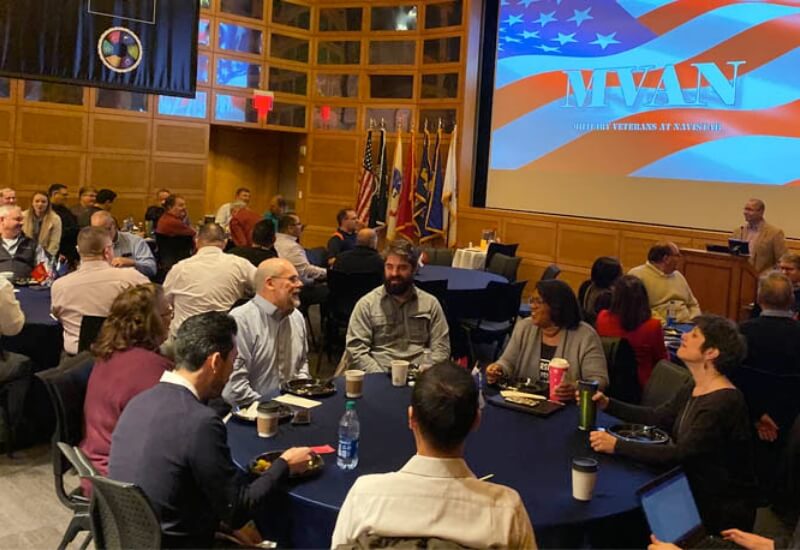 ANNUAL VETERANS DAY BREAKFAST
We take service seriously. Each year, Navistar holds Veterans Day breakfasts across the US, inviting former and active servicemembers to commemorate their service. Each employee receives a Navistar MVAN Challenge Coin.
PARTNERS:
- VFW
- Allen Force
ANNUAL RUCK MARCH
Every Memorial Day weekend, Navistar veterans, family members, and supporters walk 20 miles together to honor service members lost at home or on the battlefield. This 20-mile hike signifies the 20 veterans lost every day to suicide.
HONORING OUR HEROES
DURING TIMES OF WAR AND UNREST

IH RETIREE AND ORIGINAL BAND OF BROTHERS MEMBER
One of the Greatest Generation, Al Mampre was a paratrooper and medic in WWII and was awarded two purple hearts. Al spent his career working at the McCormick Works Plants in Chicago and Melrose Park.
SUPPORTING OUR ARMED FORCES
100+ YEARS PROUDLY SUPPORTING THE U.S. MILITARY
WORLD WAR I
International Harvester (IH) built horse-drawn escort wagons and machine gun carts to keep the army mobile, as well as the bed/box and hoops on the back of all-important Liberty trucks.
WORLD WAR I
Most important, IH provided fleets of trucks to every state-side military base. And beyond products, future IH president Alex Legge managed the country's War Industries Board and later contributed to the Treaty of Versailles.
WORLD WAR II
IH was heavily involved in the war effort, adding 18,000 to its workforce. Fifteen company plants built everything from trucks and large guns, to torpedoes, crawler tractors and half-tracks.
WORLD WAR II
Thousands of women joined IH to help keep up with demands of the U.S. military and our allies. Company employees also volunteered and trained as a group to maintain and repair Harvester products on the front lines.
1950s
After the war, IH continued to work with the U.S. military to develop experimental products like a T-18 armored utility vehicle. Starting in 1952, IH built M1 Garand rifles used in the Korean conflict at its Evansville, IN plant.
VIETNAM
IH supplied the standard complement of 52 pieces of construction equipment for 819th Red Horse Squadron. The company's Solar Division also developed a boundary layer control system for F-4 Phantom II jets, enabling them to land on aircraft carriers
1970s
The U.S. Army used International® trucks to transport 25 ft. Sprint Missile cells from Martin Marietta. In 1977, IH worked with the Air Force to create a prototype for an armored Scout II, the company's popular SUV. Between 1965-73, the U.S. Army purchased 1,200 International® highway tractors for use in Europe.
21st CENTURY
Navistar Defense was established in 2003 to support the U.S. in the Iraq war. The company developed several new vehicles based on existing commercial trucks. A standout was the MaxxPro® MRAP.
21st CENTURY
The MRAP, an armored military vehicle designed to withstand explosions, is credited with saving 10,000 lives. In 2018, Navistar sold 70% of Navistar Defense to a private equity firm.
SEE OUR HISTORY OF INNOVATION BEGINNING IN 1831
FOR NEARLY TWO CENTURIES WE'VE HELPED DRIVE AMERICA'S GROWTH
EXPLORE NAVISTAR HISTORY